One of the oldest and most reliable ways to get something clean is rinsing with water. Often the power of water, certainly under a certain pressure, is enough to remove dirt like moss, mud, clay etc. This is the reason why High Pressure Wahsers are very popular in the world and of course in India nowadays.
To Watch Top Selling High Pressure Washer Models in India
How to use a pressure washer as your car washer?
When it comes to washing car, most probably you think of a good, old scenario that includes a bucket, sponge, laundry detergent and a lot of rubbing. A pressure washer can easily clean the car from dirt, even those heavily soiled parts around the wheels.
When not using it to wash your cars, you can use your compressor cleaner to wash other vehicles, carpets and mats, concrete tracks, gutters and facades. Of course, the first step is to choose a quality device that has enough power and sufficient pressure for your purpose.
How does a pressure washer/car washer work?
You can easily connect most high-pressure washers to the water supply via the garden hose. By connecting a power supply, a motor with a pump is controlled. This pump presses the water out and ensures the desired water pressure. The shape of the jet can be adjusted to your preference using a lance head.
Top selling 10 best pressure washer models in India.
Power Pressure washers are very useful for effective cleaning even in the areas and corners where cleaning normally is difficult. The following are the top-selling best 10 best pressure washer/car washer models in India that you can buy from online.
1. Bosch Aquatak 125 1.5-Watt High-Pressure Washer
If you are looking for a versatile product, as powerful as a professional pressure washer, suitable for any type of work in the home or the garden, to be used even on large spaces, Bosch Aquatak 125 is the best pressure washer for you.
The power supply cable is 5m long, while the high-pressure hose is 5m long, giving you a wider reach and better freedom of movement.
Maximum pressure: 125 bar
Flow rate: 360 Litre / hour
Motor Power: 1500 W
2. ResQTech RSQ-PW101 1700 Watt Power Washer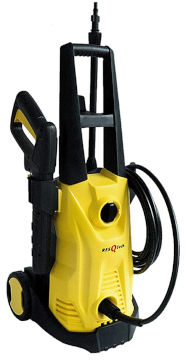 Resqtech in collaboration with CBS systems is another company producing the latest and the best portable car washing solutions for the Indian consumer. The ResQTech RSQ-PW101 is their home pressure washer/ Car washer model.
The best part is that this pressure washer comes with everything in the box (ie, detergent spray nozzle, self priming pipe and 360 degree nozzle etc). So you don't have to buy any additional accessories.
Maximum pressure: 135 bar
Flow rate: 380 Litre / hour
Motor Power: 1700 W
3. Aimex Electric Budget Friendly High Pressure Washer
If you are looking for a budget-friendly pressure washer, Aimex Pressure Washer will surely fulfil your needs. The Aimex Pressure washer has a high-performance copper motor with metal gears.
It has a High-Efficiency spray gun with an Adjustable spray Nozzle. You will get a detergent dosing soap bottle included along with this power washer.
The autostop technology of Aimex Pressure Washer switches the motor and the pump off automatically when the switch is released. The Dual Water intake of this pressure washer helps you to complete all kinds of cleaning tasks very easily.
Maximum pressure: 80 bar
Flow rate: 360 Litre / hour
Motor Power: 1500 W
4. Karcher K2 Compact 1400-Watt Pressure Washer
The Karcher K2 is another budget friendly pressure washer model from Karcher. This pressure washer is flexible, mobile and compact with German Technology. 
It is very lightweight and easy to transport thanks to its handle, it is equipped with both a high-pressure gun and a 4-meter high-pressure hose and a nozzle rotating to remove even the most stubborn dirt. 
Immediately ready for use, just connect the pressure washer to tap and the power socket and you're done!
Maximum pressure: 110 bar
Flow rate: 360 Litre / hour
Motor Power: 1400 W
5. Bosch EasyAquatak 120 Compact Pressure Washer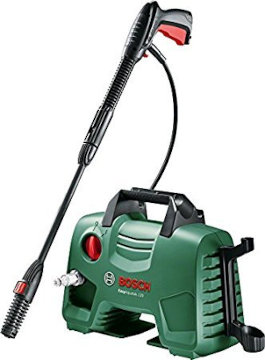 Bosch EasyAquatak 120 is a pressure washer that immediately strikes for its small size and shape that completely differs from its direct competitors.
This model does not need wheels to be transported but it is sufficient to grip the handle and move its 4 kilograms of weight comfortably where you want it as if it were a normal suitcase.
The quality and completeness of the accessories do not disappoint either. This portable power washer includes a high-pressure gun, dirt trap lance, fixed jet fan nozzle, high-pressure nozzle to be used in conjunction with the detergent and a 5-meter flexible hose.
Maximum pressure: 120 bar
Flow rate: 350 Litre / hour
Motor Power: 1500 W
6. BLACK+DECKER BW13 Power Washer
Black + Decker BXPW13 is a pressure washer that falls within an economic price range and is intended for purely domestic use. 
The pressure washer is convenient and immediate to use: simply connect the water inlet hose and turn the big red switch to ON that is it.
Normal cleaning is carried out without particular uncertainties to report, with adequate handling and versatility ensured by a complete set of accessories.
Maximum pressure: 100 bar
Flow rate: 390 Litre / hour
Motor Power: 1300 W
7. STARQ W3A HIGH-Pressure Washer
The STARQ ST2400U High-Pressure Washer helps you perform efficient cleaning with minimal effort.
The multifunction nozzle is built for different cleaning tasks. It helps you clean various surfaces like concrete, ceramic tiles, granite floors, glass, wood, AC vents etc.
The sturdy wheels and easy-fold handle make this a portable device. The quick-connect fittings help you save time while changing nozzles, and the auto-stop function helps you save energy and prolong motor life.
This pressure washer takes up to 5 minutes to wash a two-wheeler and upto 10 minutes for a four-wheeler on a regular day.
Maximum pressure: 220 bar
Flow rate: 390 Litre / hour
Motor Power: 2400 W
8. Janvitha Universal Motor High-Pressure Home and Car Washer 
Modern design, small size and reliability are the main qualities of the Janvitha Universal pressure washer. The internal components and the performance offered are also in line with the price range. 
This electric pressure washer is durable and reliable, designed for the toughest cleaning of patios, decks, driveways, house siding, etc along with car wash.
Maximum pressure: 115 bar
Flow rate: 390 Litre / hour
Motor Power: 1600 W
9. American Micronic- AMI-PW1-1500WDx Pressure Washer
American Micronic- AMI-PW1-1500WDx pressure washer is excellent for those looking for an economical and easy to use the machine for domestic cleaning.
It is equipped with a two-wheel trolley with handle and very safe to use. The materials of the machine and accessories are of good quality. Overall, it is good value for money.
American Micronic's revolutionary high pressure home and car washer helps you do a quick and efficient cleaning job in less time with minimal effort. With its multi-function nozzle that is designed for a wide variety of cleaning jobs, you can also clean other surfaces like courtyards, roofs and terraces
Maximum pressure: 120 bar
Flow rate: 390 Litre / hour
Motor Power: 1500 W
10. Makita HW101 Compact High Pressure Washer
The Makita HW101 is a very handy and entry-level pressure washer ideal for domestic use. This pressure washer comes with a universal electric motor with a wobble plate pump powerful enough to get the most stubborn dirt out of your stones.
The noise of this pressure washer is minimised by sound absorption sponges inside the housing along with a vibration isolation structure incorporated in the design of the pump.
It is very lightweight enough to be moved around with ease. You will get Trigger Gun, Vario Spray Lance, High-Pressure Hose, Detergent Bottle and Water Coupling Kit along with this pressure washer.
Maximum pressure: 100 bar
Flow rate: 360 Litre / hour
Motor Power: 1300 W
How to select the best car washer / high-pressure cleaner for home use?
We have seen which are the best pressure washers currently on the market, now let's see how to choose the most suitable for your needs from all of them. The first element to evaluate is the water pressure, on which the effectiveness of the appliance depends. The water flow and engine power are also important.
The following are some of the important thinks kept in mind while buying a power pressure washer for home use.
Water pressure
Of course, the most important aspect when you purchase a high-pressure sprayer is the water pressure. The following rule generally applies the more water pressure, the better for cleaning.
Be careful when you use pressure cleaners with very high water pressure. With incorrect (high water pressure) use on sensitive surfaces, you can also cause damage. So you must be very careful while adjusting the water pressure.
Water Flow
Pay attention to the water flow when you buy a high-pressure cleaner. The flow rate indicates the amount of water that the pressure washer can deliver in one hour and, together with the pressure, determines its effectiveness.
The higher the water yield, the easier you get something clean. To understand which water flow rate best suits your needs, you can refer to these values:
300 to 360 Liter/ Hour have limited performance, are suitable for cleaning outdoor furniture, garden equipment and bicycles.
360 to 500 Liter/ Hour have average performance, suitable for domestic use. They are effective for cleaning cars, motorcycles, garden furniture and equipment, walls, outdoor flooring, outdoor stairs, fences, driveways.
Over 500 Liter/ Hour: They are very powerful and designed for professional use. They can effectively clean all types of exterior surfaces, including house and swimming pool facades, as well as campers, caravans and vans.
Power Conception
The power of the pressure washer has also its importance. It is mostly expressed in Watt. Normally, the higher the watt, the higher the power and therefore higher the effectiveness of the pressure washer. But don't forget that a high wattage motor also has high electricity consumption.
To Watch Top Selling High Pressure Washer Models in India
My Final Thoughts
A pressure washer can greatly increase your ability to clean your property and equipment. If your time is precious, a pressure washer could be a good investment, but if you get the wrong machine you could be wasting a lot of money. So select your pressure washer wisely.