Check out this article for complete information on buying the perfect Recumbent exercise bike. We have answered some of the most important questions in this topic and also provided you with everything that you will need to know to get the right value for your money.
What are Recumbent Bikes?
A bicycle which places the rider in a laid-back reclining position is a recumbent bicycle. There are various ergonomic reasons for which recumbent bikes are constructed with this type of design, one of which being the weight of the rider gets distributed comfortably and evenly over a larger area, supported by back and buttocks.
Recumbent bikes also provide the user with an aerodynamic advantage as it is reclined, the forward-leg position of the rider's body presents a smaller frontal profile. A recumbent holds the world speed record for a bicycle but were banned from racing under the Union Cycliste Internationale (UCI) in 1934 but now are allowed to race under the World Human Powered Vehicle Association (WHPVA) and International Human Powered Vehicle Association (IHPVA).
Recumbents are available in a wide range of configurations which include:
Long as well as a short wheelbase
Large, small or a mix of wheel sizes
Over-seat, under-seat or no-hands, steering rear wheel or front wheel drive
Another type of recumbent bike is a variant having three wheels. This is known as a recumbent tricycle.
Who can use Recumbent Bikes?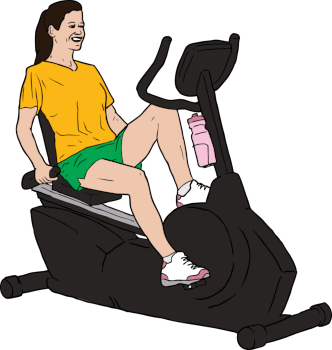 Due to the reclined body position of the rider on Recumbent bikes, it is comparatively easier on the lower back (lumbar spine) and hence proves very helpful for the people having back and spinal problems. A recumbent bike encourages better spinal posture and therefore is not painful for the back in the long run.
The people having pains in their joints and muscles get a very beneficial advantage through Recumbent bikes as they prove to be gentle on all your joints. The bucket seat supports your lower back and your knees, as well as ankles, are protected from potential injurious impact.
The most enticing feature of a recumbent bike is the fact that the seat is more significant on a recumbent bike and hence provides a more substantial area for resting the user's body on it thus ensuring the comfort of the user.
As a user cannot stand up on the pedals, it makes Recumbent bikes safer. This eliminates many of the injuries and helps you to ride your bike safely. Who doesn't want more safety right?
For people with neurological conditions, a recumbent bike proves to be the right choice since the bike provides a workout for individuals of all ability levels. It is safe and provides a low impact during total body workout.
Due to the low impact, the recumbent bike reduces the risk of pain and can build your strength. For the people suffering from back and hips rheumatoid arthritis, a recumbent bike proves to be easier to use due to the reclining position with the user's weight spread over their back and buttocks.
Differences between Recumbent and Upright Bikes
Recumbent bikes are the best choice for people who have back problems or injuries, as it provides back support in a way that supports the person in the workout. Whereas upright bikes don't usually have back support, they are bikes that strengthen your posture.
Recumbent bikes are constructed with a typical type of design, due to which the weight of the rider gets distributed comfortably and evenly over a larger area, supported by back and buttocks. On the other hand, in a traditional upright bicycle, the body weight rests entirely on a small portion of the sitting bones, the feet, and the hands.
Over distances, recumbent bicycles perform better than the upright bicycles as evidenced by their dominance in ultra-distance events like 24 hours at Sebring.
Several records have been set by the Recumbent bikes as compared to the upright bikes.
Top 6 Recumbent Bikes in India
Following is a guide that we have prepared for you, that contains few of the best recumbent bike models that we think would be perfect for you, be it in a gym or at home. These comfortable bikes enable you to exercise and get fit in the comfort of your own home around favourable surroundings.
1.Welcare Recumbent Bike WC1588
Well, Welcare WC1588 Recumbent Bike has everything that would make your workout a pleasant experience. Whether you are a beginner to the world of exercising or have been doing it for years, you will not be disappointed is this is the bike you decide on. It is an easy-to-use recumbent cycle with priority display, that enables you to read the information that is more important to you.
8 Level Magnetic Resistance
5Kg Flywheel
Max. User Weight: 110kgs,
Floor Level Adjustable Bush
Adjustable Handlebars and Seat
Seat Adjustable
LCD window monitor showing Speed, time, scan, distance, ODO, and calories.
1-year product warranty
2. Proline Fitness 335L Recumbent Bike
Proline Fitness 335L Recumbent Bike is an amazing exercise bike that also comes with a hand pulse sensor, that helps you to know about your heart rate and helps in cardiovascular training. This home gym bike has eight levels of resistance that you can control manually to aid in your workout. Moreover, it is also provided with wheels for easy moving. There is a brush for floor adjustment, that ensures that the bike remains steady even on uneven ground.
6 functions computer
Hand pulse, outer magnetic
8 levels of manual tension
Flywheel 5kg
Operated by battery
User Weight 110 kg
3.Cockatoo CRB-01 Smart Series Recumbent Bike
Cockatoo CRB-01 Smart Series Recumbent Bike is one of the most comfortable exercise bikes out there. With the manual tension feature, it is an advanced recumbent bike that would be an amazing addition to your home or gym. Pedals with straps to secure a safe grip make it a very safe model for usage by anyone.
4 kg flywheel
6 inches LCD Display showing Speed, Time, Distance, Calories, Pulse, ODO
8 Level tension Control
Adjustable seat
4.Kamachi RB-400 Magnetic Recumbent Bike
Kamachi RB-400 Magnetic Recumbent Bike is the definition of sturdiness, with its durable body. It is amazing for warming up as well as working out. It comes with a big screen with three buttons. Secure pedals with straps ensure that you get an effortless and injury-free workout. This bike is very safe, even for children around. It is the best bike for home use. It doesn't take a lot of space either.
Displays speed, time, distance and calories
8 level tension knob
Also features Hand Pulse feature
Cushioned seats for support
4kg Flywheel
Maximum weight can be 110 kgs
5. COSCO CEB-Trim 400 R Recumbent Magnetic Flywheel Exercise Cycle
Being one of the most popular exercise cycles, COSCO CEB-Trim 400 R Recumbent Magnetic Flywheel Exercise bike promises good performance and durability. It has an 8 level magnetic resistance knob that helps you limit the intensity of your workout. It has safety straps on the pedals to help avoid injuries. It is easy to assemble and does not take a lot of time so you can do it yourself too. It comes with an LCD display which helps you to keep track of time, speed, distance, calories and even your pulse.
Horizontal seat adjustment can be done
6kg Flywheel.
8 level magnetic dual resistance
An LCD display shows Time, speed, distance, calories and pulse.
Maximum User Weight: 100kg
Easy Assembly
6.Viva Fitness KH-725 Magnetic Recumbent Bike
Viva Fitness KH-725 Magnetic Recumbent Bike is one of the most interactive bikes in this price range. The 6kg flywheel makes sure that your ride is very smooth and comfortable. The inbuilt three racing games make it even more fun to workout with. It is very user-friendly and adjustable. For uneven floors, there is an adjustable cap that ensures that the bike remains stable and doesn't topple.
6kg flywheel
8 level tension control
Speed, time, distance, calories, RPM and pulse Display
3 racing games integrated into the computer display
Adjusting cap for uneven floor
Max user weight: 110kg
Features to look out for when buying a Recumbent Bikes
To make sure that you are buying the perfect model for you, we have made a list of features everyone should consider while buying exercise bikes.
Weight
The weight of the bike decides the mobility of the machine. However, that does not mean that you buy a bike that is very light but can't support your weight and is not sturdy enough.
Assembly
Make sure that your bike is easy to assemble. Practice extra safety while assembling your bike. If you think, you can't do it, then you should call a technician to assemble the bike. Some bike companies offer free home assembly with home delivery while some don't.
Weight Limit
It is important to note the maximum weight the machine can support. If your machine is not able to support your weight, it might result in it toppling over and thus injuring you. Moreover, you should also note if the machine is compatible with your height otherwise it may become very uncomfortable and may possibly injure you in the long run.
Back Support
All recumbent bikes have back support but there are different comfort levels that come with each machine. You will have to make sure that the machine satisfies your comfort needs. Back supports are an important feature to consider if you have back pains or any injury. These machines ensure safe exercising for everyone.
Seat Adjustment
Make sure the seat of your recumbent bike can be adjusted according to your body profile so that you can be comfortable while enjoying the best of workouts. It is necessary for you to maintain a proper form while you exercise, and recumbent bikes make it very easy for you to do so.
Magnetic Resistance
Being one of the most important features to look out for, magnetic resistance is hard to not find. It provides you with an easy way to manually adjust the intensity of your workout, preventing you from overexerting and injuring yourself. Magnetic resistance is a very helpful feature since it helps to let anyone exercise, being able to adjust the workout according to your workout level.
LCD Display and Features
Every machine has a few basic features, along with some additional features. Buying the perfect bike for you starts with most of your needs being satisfied. So make sure you're buying a bike with various programs and features to make your workout even more interactive. An interactive LCD display lets you set programs, records and even provides some inbuilt games.
Pedals
For safety purposes, ensure that the pedals of your machines are secured with straps and make for a good foot grip, to avoid slipping and hurting yourself.
Moreover, make sure that the bike you buy has wide pedals for accommodating anybody who sits on the bike.
Warranty
The warranty policy is the most important factor when you are buying a machine. Take note that the warranty of your machine highlights all the situations in which the warranty can be claimed. Also, make sure that the warranty policy is well defined.
Flywheel
A flywheel ensures a smooth and effortless ride. Heavy flywheels are preferably better for a smooth workout experience every time. A flywheel is an important part of an exercise bike. It determines the quality and smoothness of working out on the bike.
A Few Important Points to Consider While Buying
While buying the perfect exercise bike, ensure that it is compatible with your body profile. If you have kids, make sure you buy one that is safe enough for children to be around and all the unsafe parts are covered properly. If you find that the machine is difficult to assemble, call a technician to do it for you and avoid getting hurt.
The magnetic resistance system is made manual so that you don't exceed the limit of exertion your body can take. Be sure to buy a bike that is very user-friendly and can adjust to your needs. Value for money is also an important quotient. Think if the machine is worth the money, if it has good features, only then buy it. Remember, quality is more important than quantity.