Upright bikes have always been popular and essential in the world of exercising. You will always find an exercise bike in a gym. An exercise bike is one of the necessary equipment to start your exercise regime. It is true that not everyone is comfortable lifting weights and a lot of people don't get time to go for jogging or cycling every day. Having an exercise bike at home solves this problem as you can exercise any time and within the comfort of your home. Moreover, you won't have to cycle outside with the increasing level of pollution and unsafe, traffic-ridden surroundings.
We have prepared a thorough guide so that you don't have a problem choosing an exercise that is best suited for you and your needs. So make sure you don't lose out on money and energy by selecting the wrong cycle!
What is an Upright Bike?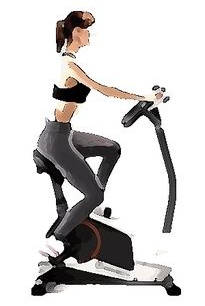 Upright bikes are easy to use – it's just like a regular bicycle! The only difference is, you cover distance while the bike is stationary. Stationary bikes or upright exercise bike provides all the benefits of riding a bicycle but without the discomfort of unfavourable weather conditions. It can help to improve your cardiovascular health. Upright bikes also engage your core and upper body, along with your legs.
Upright bikes cause low impact, and so do the bests ways to lose weight without a significant impact on your joints. Spinning these exercise bikes at home is both safe and less time-consuming. Exercising not only helps you burn fat but also strengthens your heart and tones your muscles.
Who can use Upright Bikes in India?
An Upright Cycle is perfect for beginners. But regardless of your fitness level, anyone can use an upright exercise bike. It is also very economical. You spend way less on one bike that lasts for a long time, rather than on gym subscriptions and transportation. Moreover, you also have control over your surroundings.
You can use your upright bike every day and at anytime. It also helps you sleep better. Yeah, you heard that right! Exercise anyways is an excellent remedy for sleep and exercising on these bikes just for 40 minutes a day can make you sleep like a baby. Since it causes low impact, people with diabetes or joint problems are recommended to use this.
Differences between Recumbent and Upright Bikes
Recumbent bikes are basically bikes for people who have back problems or injuries, as it provides back support in a way that supports the person in the workout.
Whereas upright bikes don't usually have back support. Some upright bikes are confused with recumbent bikes because they have back support, but that is provided only, and the support cannot be used while exercising, as it will make the position awkward and difficult to exercise in.
Top Selling 8 Best Upright Bikes In India
Finally, we will now move on to the part where you get to know about the best upright bikes in India. Following this guide, choose the perfect choice for your needs, be it the gym or your home.
1. Powermax Fitness BU-500 Magnetic Upright Fitness Bike
One of the best exercise bikes available in India, Powermax Fitness BU-500 is easy to use and is very user- friendly. The intensity can be adjusted with an eight-level tension knob, which is very convenient. It has an LCD that shows time, distance, speed, odometer, calories, and hand pulse display so that you can monitor your workout efficiently. Moreover, it has a magnetic belt that reduces the sound caused and makes your workout smooth. The pedals are secured and ensure a good grip. It has a secure body design and thus is safe even around children.
4kg flyweight, inner magnetic flywheel delivers a smooth, realistic ride experience
8 level resistance knob for adjusting the workout intensity
Magnetic J6 belt drive which is smooth, reliable, light, and silent
MAXIMUM USER WEIGHT 110kg
Warranty: 1-year warranty against manufacturing defects
2. Cardio Max JSB HF78 Magnetic Upright Fitness X-Bike
Even though Cardio Max JSB HF78 Magnetic Upright exercise bike comes with back support, it is still an upright exercise bike and not a recumbent one. The back support is provided for the purpose of resting in intervals. It is still an upright bike as you have to remain straight to be able to exercise effortlessly. It is a foldable bike which makes it easily moveable. It has a highly adjustable seat to ensure full comfort.
4 kg flyweight
Display: time, distance, speed, total distance travelled easily foldable design
Max weight capacity : 100 kgs
16 level tension controller
Compact in nature
With backrest support and back handles
Non-skid foot pedals with adjustable foot straps
3. Cardio Max JSB HF73 Magnetic Upright Fitness Bike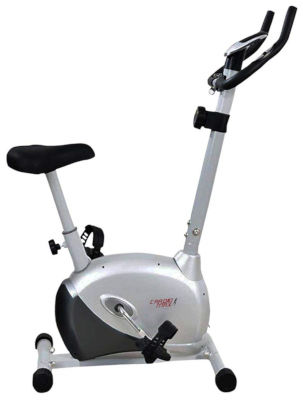 Cardio Max JSB HF73 Upright bike is one of the best exercise cycles, being magnetic, it is very light and makes very little noise. The pedals are secured and have straps that ensure a safe grip and thus help avoid injury. It makes sure you have a fruitful and safe workout exercising within the comfort of your home or gym, at any time of day.
4 Kg Flyweight
LCD Display: Time, Distance, Speed, Pulse, Calorie, Total Distance Travelled, Scan, Hand Pulse Sensor
Max Weight Capacity: 100 Kgs
8 Level Tension Controller
Non-Skid Foot Pedals with Adjustable Foot Straps
1-year warranty
4. Powermax Fitness BX-110SX Fitness Exercise Cycle
Powermax Fitness BX-110SX Upright Bike will fulfil your needs of a safe, compact exercise bike that you need for your home. It is a space-saving bike, all the while providing all the features of an average cardio machine. The seat is height adjustable. It is foldable, making it easy to store. With eight levels of resistance, you can control the intensity of your workout. The foam grip ensures that you have a firm grip.
Speed, Time, Distance, Calories And Hand Pulse Display
4 kg flywheel
Ribbed belt one-way drive system
Eight levels of training intensity by manual
Magnetic brake system
Max user weight: 110 kg
Transport roller with wheels for easy movement
1 Year Warranty
5. Powermax Fitness BU-200 Upright Bike/Exercise Bike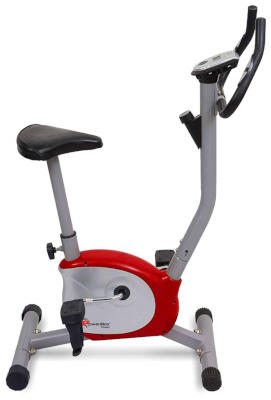 Powermax Fitness BU-200 Upright Bike is one the top rated exercise cycle model made for home use. It is the perfect model for low-impact exercises that makes you feel like you are cruising outdoors, but with more security and comfort. The seat can be adjusted vertically. It also has a manual tension control knob that helps you control the intensity. It comes with a comfortable cushion seat and pedals with straps. Get ready to lose those extra pounds without repeatedly losing money on gym subscriptions and transportation.
LCD Display- Scan, Time, Speed, Distance, Odometer, Calories And Pulse
Micro adjustment tension control
Maximum user weight: 100kg
Heart rate sensors on the handle grip
One piece crank/5.5 inches
Anti-skid pedals with adjustable foot straps
Fully adjustable Gel seat with a sweat-proof finish
Net weight: 10.5kg
One year limited warranty
6. Cockatoo CUB-01 Smart Series Magnetic Exercise Bike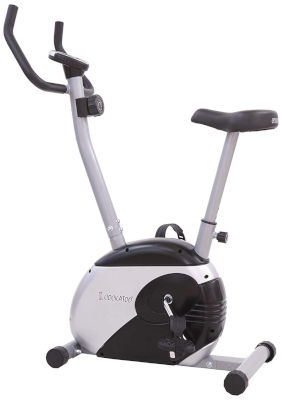 Achieving your body goals isn't a difficult task when Cockatoo CUB-01 Smart Series Magnetic Exercise Bike is your choice. It features a height adjustable seat and pedals with straps to secure a perfect grip. It is one of the best bikes for home use. It combines design and performance and won't make you regret your choice. It also comes with wheels for easy mobility.
6″ LCD monitor, which tracks calories, time, speed and distance
3kg Flywheel
Maximum User Weight & Height:100Kgs /150-195cm
Operating Technology: Magnetic System
Resistance Level:8-Level
Brake system: Magnetic
2 Year Warranty
7. Welcare WC8077 Upright Bike Magnetic Basic
For low- impact, effective exercises, Welcare WC8077 upright bike is one of the best choices. It comes with a secure LCD screen that helps you record your workouts effectively indicating distance, calories burned, time, speed, and pulse.
Adjust the resistance according to you, with an eight-level intensity knob.
Heart rate display and training
Secure pedals with straps to ensure a firm grip.
4Kgs, flywheel
Max.User Weight: 80kgs,
6 Programs.
1-Year product warranty
Features to keep in mind when buying an upright cycle
Even though all upright cycles have similar features, but there are some features you should notice when you're looking to hire an upright bike, that satisfies most of your exercise needs.
Weight
Weight is a significant factor when considering an upright bike for your home. You should keep in mind the mobility and compactness of the machine so that it doesn't take a lot of space and is easy to move and store.
Noise
Of course, if you're looking for an exercise machine, you would mind if it makes a lot of noise. Luckily, recently, all models have magnetic belts and thus don't cause a lot of noise while offering a smooth workout.
Weight Limit
It is essential to know if the machine can support your weight for both comfort and safety reasons. You should always buy a machine that can easily support your weight, so it does not topple over, and you don't hurt yourself.
Safety
Make sure that the machine you choose has covered belts and all the parts, if not included, that can cause injury or hurt children while unknowingly playing around.
Seat and Handlebar Adjustment
You should ensure that your body fits the machine comfortably and that the machine has an option to adjust the seat and handlebar according to your body profile.
Magnetic Resistance
Magnetic resistance is an easy way to control the intensity of your workout, and it is right now, one of the essential features to look out for. Manually controlling the maximum resistance, can help people and manage excess fatigue for beginners, causing low impact and no injuries.
LCD Display and Features
Every machine has an LCD, but there are different features that every machine provides. You have to look for a machine that displays every information about your workout that you need to record. Some machines even allow you to set specific workout programs, and make your workout records too. There are different sizes of the displays also.
Pedals
Go for a machine that provides pedals with secure grips and straps so that you don't injure yourself while spinning.
Warranty
Every machine has different periods and conditions of the warranty, so make sure you choose the one that is best suited for your usage.
My Final Thought
Before buying the perfect upright bike, make sure your body profile is suited for the model. It is vital to look for quality rather than quantity (of features). Take careful notice of the safety features on the machine. If you have young kids at home, make sure there is no dangerous part exposed to them. Buy the upright bike that is best for your usage and needs.
If you follow this guide and remember the features you want, you will have no issues in finding the best upright bike for your use. If there are a few stationary bikes, you like and can't decide on one, look for extras which make the difference and help you make up your mind. Like some bikes have inbuilt music systems or different programs that will make you want them even more.
Keep in mind that the bike you buy should have a value for money. Moreover, these cycles require less to no maintenance, and the maintenance cost is not very expensive.
If you really like this post of Best Upright Bikes in India, say thanks by sharing it.