Sport and fitness are very important in this day and age, but there is not always time to go to a gym. An exercise cycle can provide a remedy because it is perfect for your own four walls. This makes it possible to carry out an optimal training program at any time without having to leave the house.
Exercise cycle is also called exercise bike, gym bike, spinning bike and so on.
Important of Exercise Bike in Today's Lifestyle
An exercise bike is one of the necessary equipment to start your exercise regime. It is true that not everyone is comfortable lifting weights and a lot of people don't get time to go for jogging or cycling every day. Having an exercise bike at home solves this problem as you can exercise any time and within the comfort of your home. Moreover, you won't have to cycle outside with the increasing level of pollution and unsafe, traffic-ridden surroundings.
Different Exercise Bike Models in India
If you are looking for an exercise bike in India, you can find so many different models. In this article, I can help you understand which exercise cycle type is best suited for your fitness plan.
Upright Bike or Upright Cycle.
Air Bike or Fan Bike.
Recumbent Bike or Recumbent Cycle.
NO:1
Upright Bike or Upright Cycle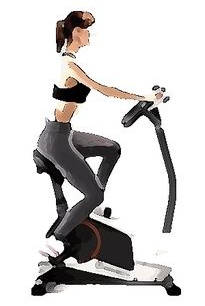 Upright bikes are easy to use – it's just like a regular bicycle! The only difference is, you cover distance while the bike is stationary. Stationary bikes or upright exercise bike provides all the benefits of riding a bicycle but without the discomfort of unfavourable weather conditions. It can help to improve your cardiovascular health. Upright bikes also engage your core and upper body, along with your legs.
Upright bikes cause low impact, and so do the bests ways to lose weight without a significant impact on your joints. Spinning these exercise bikes at home is both safe and less time-consuming. Exercising not only helps you burn fat but also strengthens your heart and tones your muscles.
Top 5 Best Selling Upright Bikes In India
We will now move on to the part where you get to know about the best upright bikes in India. Following this guide, choose the perfect choice for your needs, be it the gym or your home.
1. Powermax Fitness BU-500 Magnetic Upright Fitness Bike
One of the best exercise bikes available in India, Powermax Fitness BU-500 is easy to use and is very user- friendly. The intensity can be adjusted with an eight-level tension knob, which is very convenient. It has an LCD that shows time, distance, speed, odometer, calories, and hand pulse display so that you can monitor your workout efficiently. Moreover, it has a magnetic belt that reduces the sound caused and makes your workout smooth. The pedals are secured and ensure a good grip. It has a secure body design and thus is safe even around children.
4kg flyweight, inner magnetic flywheel delivers a smooth, realistic ride experience
8 level resistance knob for adjusting the workout intensity
Magnetic J6 belt drive which is smooth, reliable, light, and silent
MAXIMUM USER WEIGHT 110kg
Warranty: 1-year warranty against manufacturing defects
2. Cardio Max JSB HF78 Magnetic Upright Fitness X-Bike
Even though Cardio Max JSB HF78 Magnetic Upright exercise bike comes with back support, it is still an upright exercise bike and not a recumbent one. The back support is provided for the purpose of resting in intervals. It is still an upright bike as you have to remain straight to be able to exercise effortlessly. It is a foldable bike which makes it easily moveable. It has a highly adjustable seat to ensure full comfort.
4 kg flyweight
Display: time, distance, speed, total distance travelled easily foldable design
Max weight capacity : 100 kgs
16 level tension controller
Compact in nature
With backrest support and back handles
Non-skid foot pedals with adjustable foot straps
3. Cardio Max JSB HF73 Magnetic Upright Fitness Bike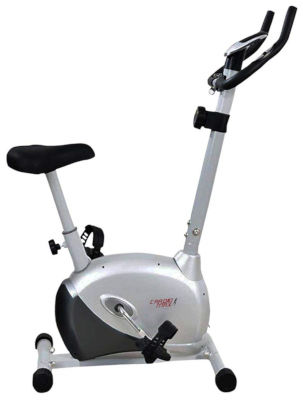 Cardio Max JSB HF73 Upright bike is one of the best exercise cycles, being magnetic, it is very light and makes very little noise. The pedals are secured and have straps that ensure a safe grip and thus help avoid injury. It makes sure you have a fruitful and safe workout exercising within the comfort of your home or gym, at any time of day.
4 Kg Flyweight
LCD Display: Time, Distance, Speed, Pulse, Calorie, Total Distance Travelled, Scan, Hand Pulse Sensor
Max Weight Capacity: 100 Kgs
8 Level Tension Controller
Non-Skid Foot Pedals with Adjustable Foot Straps
1-year warranty
4. Powermax Fitness BX-110SX Fitness Exercise Cycle
Powermax Fitness BX-110SX Upright Bike will fulfil your needs of a safe, compact exercise bike that you need for your home. It is a space-saving bike, all the while providing all the features of an average cardio machine. The seat is height adjustable. It is foldable, making it easy to store. With eight levels of resistance, you can control the intensity of your workout. The foam grip ensures that you have a firm grip.
Speed, Time, Distance, Calories And Hand Pulse Display
4 kg flywheel
Ribbed belt one-way drive system
Eight levels of training intensity by manual
Magnetic brake system
Max user weight: 110 kg
Transport roller with wheels for easy movement
1 Year Warranty
5. Powermax Fitness BU-200 Upright Bike/Exercise Bike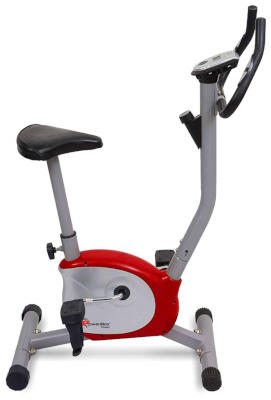 Powermax Fitness BU-200 Upright Bike is one the top rated exercise cycle model made for home use. It is the perfect model for low-impact exercises that makes you feel like you are cruising outdoors, but with more security and comfort. The seat can be adjusted vertically. It also has a manual tension control knob that helps you control the intensity. It comes with a comfortable cushion seat and pedals with straps. Get ready to lose those extra pounds without repeatedly losing money on gym subscriptions and transportation.
LCD Display- Scan, Time, Speed, Distance, Odometer, Calories And Pulse
Micro adjustment tension control
Maximum user weight: 100kg
Heart rate sensors on the handle grip
One piece crank/5.5 inches
Anti-skid pedals with adjustable foot straps
Fully adjustable Gel seat with a sweat-proof finish
Net weight: 10.5kg
One year limited warranty
NO:2
Air Bike or Fan Bike
An air bike also known as a fan bike, unlike a spin bike or an upright bike, is easy to use – it has a big fan, instead of a flywheel or a front-wheel so the faster you spin the pedals, the more air the fan creates, and thus a tremendous amount of resistance is created. The quicker you go, the more resistance is created. An air bike has the added advantage of making you feel more relaxed while exercising since the big fan has a cooling effect.
Moreover, it has a less impact than other types of exercise bikes, so it is best for people who have not been in shape for a while or have suffered an injury recently since it doesn't cause a lot of impacts and jarring in your joints. It isn't complicated like other equipment, and there are no unnecessary buttons and dials – it is easy to control the resistance, lower your speed to lessen it and vice-versa.
Top Selling 5 Best Air Bike Models in India
The following are the top 6 selling best air bike models in India that you can buy from online.
1. Fitkit FK600 Steel Airbike
The Fitkit FK600 Air Bike is one of the best fan bikes that there is. It enables you to have a simultaneous upper body and lower body workout all in one machine. It involves both your arms and upper body for a full body workout by targeting cardio. Moreover, it has dual action handlebars so you can either work your upper body alone or have a simultaneous full body workout while spinning the comfortable and durable pedals with your legs.
It has a seat that can be adjusted according to your height. It has a comfortable seat, making for a comfortable workout. The bike assists you with a digital monitor that displays calories burned, the distance covered, speed and time. This is shown clearly on an LED screen, making it easier to read.
The machine also provides a feature of Manual Resistance, which helps in increasing or decreasing the resistance and intensity, basically controlling them by using a knob that is marked and easy to use. It comes with a foot pedal lock for the safety of the user, so it has to be adequately secured to avoid jerking and injuring yourself.
3 kgs flywheel ensure an effective workout
Anti-slip wide base for better stability
Has a stylish body frame, occupies less space
The bike weighs less than 20 kgs, easy to move
Non-Motorized Cycle made of steel for domestic use
Maximum user weight 100 kgs
Roll over image to zoom in
2. Cockatoo Imported Air Bike Multifunction
This Cockatoo Imported Air Bike is a compact exercise bike that helps you stay healthy despite your busy life. It helps to get you your daily fill of cardio while simultaneously working your busy schedule. With a sturdy built, this fan bike ensures that no matter how fast you pedal, it won't wobble and will stand sturdy for a long duration.
The resistance can also be controlled with a marked rod even while working out. There is a digital display provided, that helps motivate you by thoroughly monitoring and showing you details like speed, distance, and calories. The seat of the air bike is sufficiently cushioned to make you feel more at ease and can be adjusted very quickly, making it suitable for people of all heights.
It has dual action handlebars, thus making it possible for you to have a full body workout in just one machine. So you don't have to worry about losing weight, because this cycle takes care of both your upper and lower body workouts, as well as only an upper body workout if you want.
Due to its compactness, it is perfect for home use and won't take a lot of space. Because of its stylish design, it will not stick out of its surroundings and will not be an eyesore.
Dual action handlebars
Easy adjustment of resistance
Compact size
Comes with a shaker bottle
3. Lifeline Air Bike
The Lifeline exercise air bike is durable and comes with a promise of burning a lot of calories fast. This is really a user- friendly air bike. It is very easy to assemble and is an excellent addition to your home gym. The design of the model prevents injuries that can occur because of speeding up too much or jerks.
This model also comes with an easy-resistance control knob with which you can customize the speed of paddling according to your body size and strength. The arm handles come with padding so that you can have a firm grip. The arm handles are also adjustable. So basically you have to keep your body size and strength in mind while adjusting this bike.
Along with all this, the air cycle has an adjustable seat and a comfortable saddle. The machine sports a smart electronic meter that shows speed, time, distance, calories, and pulse. It also has a feature of scan which helps you to monitor your workout efficiently.
It is designed with a heavy-duty, durable frame that increases the longevity and the efficiency of the machine.
Adjustable reach-arms
Padded grips
Easy-to-assemble air bike
Ergonomic design
Fibre wheels
4. Cockatoo CFB-01 Smart Series Fan Bike
The Cockatoo CFB-01 Smart Series is a fantastic fan bike that helps you get a full body workout instead of just the upper body, focusing on cardio and strength training. It comes with a fan wheel and is very accommodating. The fan wheel provides smooth, quiet, and low maintenance. It ensures that the machine makes less noise and gives you a more efficient workout.
The machine comes with a level resistance dial that lets you control the intensity of your workout. Just twist the knob to ensure that the resistance of the machine is according to your strength. It has an LCD monitor, which tracks calories, time, speed, and distance. To increase stability, the machine comes with a skid-free floor grip. The stable steel frame and fan wheel ensure that you stay cool while creating a resistance that is beneficial for your body.
Dual-action handlebars
Resistance levels and workout intensity can easily be controlled
Adjustable seat for easy comfort
Sturdy steel frame design
17″ Inch Fan
It can accommodate a person up to 110kgs and 160-165cms in height
5. AD7 Sports Benson Dual Motion Air Bike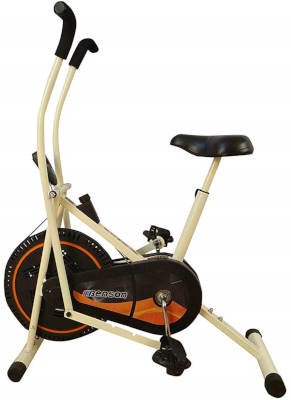 The AD7 Sports Benson Dual Motion is a great fan cycle to help you keep fit and active. It helps in strengthening both the upper and lower body with resistance that is controlled by you. It also has a resistance knob that you can twist to limit the resistance according to your body strength so that you can exercise comfortably.
To make you more comfortable, it has an adjustable seat. It has a 5 – function exercise monitor and demountable handlebars. The pedals are attached to the handles which follow in motion allowing for a full body workout.
Adjustable progressive fan wheel resistance system
Single screen 5-function exercise monitor
Assembled dimensions L 36 in x W 17 in x H 47 in; Wt- 18kg.
Maximum user weight 110kg
NO:3
Recumbent Bike or Recumbent Cycle.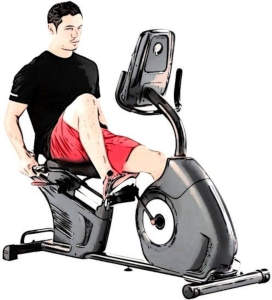 A bicycle which places the rider in a laid-back reclining position is a recumbent bicycle. There are various ergonomic reasons for which recumbent bikes are constructed with this type of design, one of which being the weight of the rider gets distributed comfortably and evenly over a larger area, supported by back and buttocks.
Due to the reclined body position of the rider on Recumbent bikes, it is comparatively easier on the lower back (lumbar spine) and hence proves very helpful for the people having back and spinal problems. A recumbent bike encourages better spinal posture and therefore is not painful for the back in the long run.
The people having pains in their joints and muscles get a very beneficial advantage through Recumbent bikes as they prove to be gentle on all your joints. The bucket seat supports your lower back and your knees, as well as ankles, are protected from potential injurious impact.
Top Selling 5 Best Recumbent Bikes in India
Following is a list that contains a few of the best recumbent bike models that we think would be perfect for you, be it in a gym or at home. These comfortable bikes enable you to exercise and get fit in the comfort of your own home around favourable surroundings.
1.Welcare Recumbent Bike WC1588
Well, Welcare WC1588 Recumbent Bike has everything that would make your workout a pleasant experience. Whether you are a beginner to the world of exercising or have been doing it for years, you will not be disappointed is this is the bike you decide on. It is an easy-to-use recumbent cycle with priority display, that enables you to read the information that is more important to you.
8 Level Magnetic Resistance
5Kg Flywheel
Max. User Weight: 110kgs,
Floor Level Adjustable Bush
Adjustable Handlebars and Seat
Seat Adjustable
LCD window monitor showing Speed, time, scan, distance, ODO, and calories.
1-year product warranty
2. Proline Fitness 335L Recumbent Bike
Proline Fitness 335L Recumbent Bike is an amazing exercise bike that also comes with a hand pulse sensor, that helps you to know about your heart rate and helps in cardiovascular training. This home gym bike has eight levels of resistance that you can control manually to aid in your workout. Moreover, it is also provided with wheels for easy moving. There is a brush for floor adjustment, that ensures that the bike remains steady even on uneven ground.
6 functions computer
Hand pulse, outer magnetic
8 levels of manual tension
Flywheel 5kg
Operated by battery
User Weight 110 kg
3.Cockatoo CRB-01 Smart Series Recumbent Bike
Cockatoo CRB-01 Smart Series Recumbent Bike is one of the most comfortable exercise bikes out there. With the manual tension feature, it is an advanced recumbent bike that would be an amazing addition to your home or gym. Pedals with straps to secure a safe grip make it a very safe model for usage by anyone.
4 kg flywheel
6 inches LCD Display showing Speed, Time, Distance, Calories, Pulse, ODO
8 Level tension Control
Adjustable seat
4.Kamachi RB-400 Magnetic Recumbent Bike
Kamachi RB-400 Magnetic Recumbent Bike is the definition of sturdiness, with its durable body. It is amazing for warming up as well as working out. It comes with a big screen with three buttons. Secure pedals with straps ensure that you get an effortless and injury-free workout. This bike is very safe, even for children around. It is the best bike for home use. It doesn't take a lot of space either.
Displays speed, time, distance and calories
8 level tension knob
Also features Hand Pulse feature
Cushioned seats for support
4kg Flywheel
Maximum weight can be 110 kgs
5. COSCO CEB-Trim 400 R Recumbent Magnetic Flywheel Exercise Cycle
Being one of the most popular exercise cycles, COSCO CEB-Trim 400 R Recumbent Magnetic Flywheel Exercise bike promises good performance and durability. It has an 8 level magnetic resistance knob that helps you limit the intensity of your workout. It has safety straps on the pedals to help avoid injuries. It is easy to assemble and does not take a lot of time so you can do it yourself too. It comes with an LCD display which helps you to keep track of time, speed, distance, calories and even your pulse.
Horizontal seat adjustment can be done
6kg Flywheel.
8 level magnetic dual resistance
An LCD display shows Time, speed, distance, calories and pulse.
Maximum User Weight: 100kg
Easy Assembly
My Final Thought
Before buying the perfect exercise cycle, make sure that your body profile is suited for the model. It is vital to look for quality rather than quantity (of features). Take careful notice of the safety features on the machine. Now it is your decision to select the best exercise bikes whether Upright bike, air bike or recumbent bike.
An Upright Cycle is perfect for beginners. But regardless of your fitness level, anyone can use an upright exercise bike. It is also very economical. You spend way less on one bike that lasts for a long time, rather than on gym subscriptions and transportation.
Air bikes, though a recent addition to the world of exercise equipment, has already made a mark. They are very user-friendly and can easily be installed at home or in a gym. It is extremely portable and is an exercise that engages the upper body as well as the lower body. It is beneficial for people who want to shed extra calories and burn fat.
Recumbent bikes also provide the user with an aerodynamic advantage as it is reclined, the forward-leg position of the rider's body presents a smaller frontal profile. Due to the low impact, the recumbent bike reduces the risk of pain and can build your strength. For the people suffering from back and hips rheumatoid arthritis, a recumbent bike proves to be easier to use due to the reclining position with the user's weight spread over their back and buttocks.
An finally keep in mind that the exercise bike you buy should have a value for money. Moreover, these cycles require less to no maintenance, and the maintenance cost is not very expensive. We hope that we added value to your life and rightly guided you. Good luck and burn some extra calories with your new exercise cycle. Cheers!
If you really like this post of best exercise cycles in India, say thanks by sharing it.